Just like a cozy hearth is said to be the heart of a home, Celebration Square is the heart of our city. Throughout each season, there's something special to see and do, with unique events nearly every weekend. During the wintertime, the Square becomes extra magical. 
Starting on Saturday, November 26th it will glow with dazzling spectacles, and the winter festivities will be in full swing. Here's all the fun you won't want to miss this season. 
Plus, make the season extra special by entering our Holiday Shopping Spree contest and you'll be entered to win a $2500 Square One Shopping Centre gift card. 
On Saturday, November 25, the season kicks off with a celebration that lights up the night! This free evening event marks the official start of Celebration Square's seasonal activities. Starting with a tree lighting and continuing with a night of live entertainment and a holiday market – it's the perfect way to celebrate the festive season. 
Immerse Yourself in Glowing Art Installations
Mississauga's downtown transforms into a technicolour wonderland as six glowing art installations make their home at Celebration Square and Living Arts Centre (LAC) Park from November 25th until January 2nd. 
Enjoy Free Outdoor Skating
One of the most beloved Mississauga traditions is taking a spin around the city's largest outdoor ice-skating rink. The lights in the Square make for a truly delightful backdrop for this free, family-friendly activity. If you're not a regular skater, skates are also available to rent for a nominal fee. 
Dine from the Delicious Food Trucks
Chill out on The Porch, the Square's cozy heated seating area, while you snack on some delicious rink-side treats from a variety of food trucks, including Dimkin Crepes, Le Chateau Chicken, and Canadian classic, BeaverTails. 
Take a Stroll Through the Queen's Jubilee Garden
While more popular in the warmer weather, this garden has its own wintery charm. It's picturesque spot to pause for a rest on the benches while enjoying views of the freshly fallen snow twinkling on the winter-worn branches. Bonus: at the entrance to this parkette, you can explore local history at Legends Row, highlight some of the most influential Mississaugans.
See Some of the City's Favourite Outdoor Public Art
Celebration Square is home to many pieces of outdoor art. One of the most memorable of those is The Book, but you can explore even more using the city's public art map.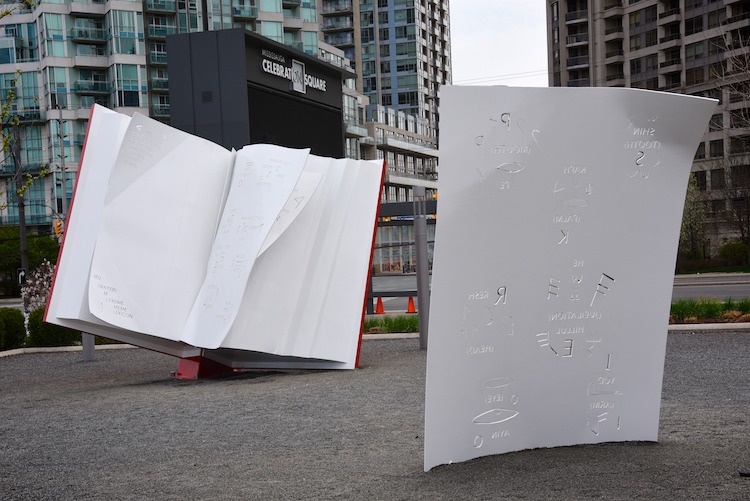 Explore the Nearby Amenities
Stay Tuned for Seasonal Events
There's even more wintery fun on its way to Celebration Square! From markets, to music and more – stay tuned to our events calendar all season long for all the latest.