CONTENT FROM: GLOBE & MAIL NATIONAL TAKEOUT DAY REPORT
PUBLISHED APRIL 15, 2022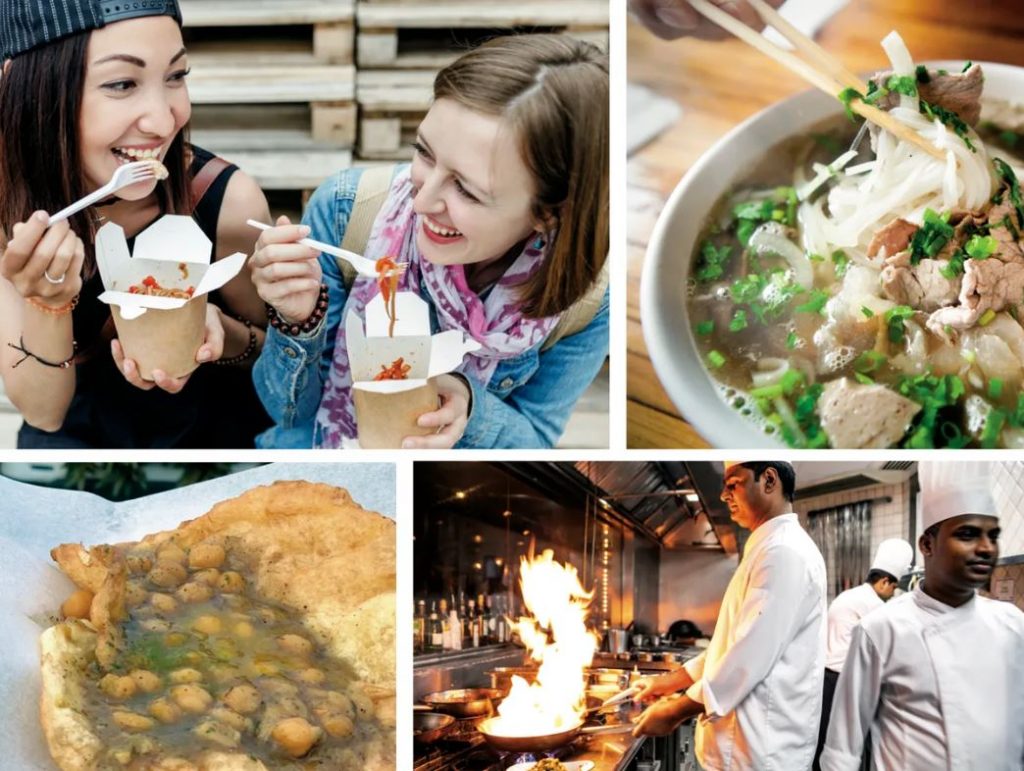 Imagine finding yourself at a crossroads. Now picture your surroundings brimming with an incredible variety of food. From mouth-watering empanadas at Las Delicias, a Colombian eatery that fits about five customers, to Jamaican rice-and-pea dishes with jerk chicken, oxtail or salt fish at Fred's Kitchen. Then there is Tabaq, a restaurant offering Indian and Pakistani staples like vegetarian and meat stews served with long pieces of bread.
That's not all you'll find at this particular intersection of Hurontario Street and Dundas Street East in Mississauga, says Suresh Doss, food reporter at CBC Toronto, who has been writing about food in the GTA for 19 years. "There is also Pho Ha Noi 54, a very busy place with really wonderful chicken and beef broth."
Beyond that, you have Mo Thai, a tiny place about the size of a parking spot that is run by Mo, a chef famous for her spicy Bangkok-style fare. "A lot of love comes out of these small, diamonds-in-the-rough spaces," says Doss. "Just consider having five amazing places from five different corners of the world clustered at one intersection."
Such wealth of diverse and multicultural foods is what draws Doss to Mississauga, where he has enjoyed eating for over 30 years. "Any major artery leading into the city has areas where you find these small food places, where you can just pull over and get a plate or a box of delicious food," he notes. "You don't see this anywhere else in the world; believe me, I have travelled extensively."
The making of a culinary scene
In writing about food for nearly two decades as well as hosting food tours with special emphasis on venues outside the downtown core, Doss has come to understand something about the evolution of culinary hubs.
"What I have learned is that when newcomers arrive in Canada – for example from Lebanon – they tend to look for places where housing is more affordable," he explains. "So they may settle in Mississauga, connect with a community with ties to Lebanon, and open a butcher shop, bakery or restaurant."
The rich history of immigration in Canada has created entire neighbourhoods shaped by specific cultures, he explains. "That's where you attract an audience who will understand – and seek out – this type of food, which is prepared and cooked for the people in that community."
Over time, word will get out, and food districts will attract more businesses and entrepreneurs until they become magnets for customers from all backgrounds, adds Doss. "The food in many of these places is made for authentic palates, and this means it's amazing and hard to find elsewhere."
A welcoming, supportive city
In addition to the talent and dedication of the owners and operators of foodservice venues, the success of a vibrant food scene depends on customer support as well as a favourable business climate. Bonnie Crombie, who has been the city's mayor since 2014, says diversity is at the core of Mississauga's identity. "Our culinary scene in Mississauga is truly incredible, and a big reason why is that we're one of the most multicultural cities in the entire country," she says. "With over 1,800 restaurants representing food from more than 150 countries, there really is something for everyone."
While the city has always valued and supported local businesses, the experiences from two years of living with COVID-19 have inspired renewed and creative efforts to help enterprises that suffered from pandemic-related restrictions. Among the measures the city has implemented over that time are supports for e-commerce solutions, a deferral of select taxes, interest charges and levies, and accelerated permits for patio expansions, explains Crombie. "Our economic recovery plan outlines both short-term and long-term actions for getting businesses back on their feet."
Our culinary scene in Mississauga is truly incredible, and a big reason why is that we're one of the most multicultural cities in the entire country. With over 1,800 restaurants representing food from more than 150 countries, there really is something for everyone.— Bonnie Crombie Mayor of Mississauga
A growing awareness about the challenges faced by restaurants – be it rising food costs, debt due to losses incurred during the pandemic or difficulties finding staff – is inspiring residents to "heed the call to support local businesses in a big way," she says. "After all, these are our friends, our family, our neighbours."
The pandemic has also brought a heightened focus on the things we value most, and Doss believes this extends to food choices. "People increasingly prioritize supporting small neighbourhood places, realizing these may otherwise not be able to stay in business. If they have a Rolodex of their 10 favourite restaurants, they'll frequent these venues more often," he says. "I'm doing the same."
Hot new trends
Eateries are also getting creative to ensure customer satisfaction. Doss explains that, for some, this means adding more menu items while others respond with a deep dive into regional cuisine. "I've seen places that previously only served empanadas but now offer soups because their clientele indicated the desire to get a whole meal there," he says. "I've also noticed more and more different kinds of regional foods. For example, there were always Thai restaurants in Mississauga, but now we have places specializing in cuisine from Chiang Mai or Bangkok."
This shift allows business owners to showcase a specific culinary heritage as well as build customer appreciation for an ever-growing array of multicultural foods. Among these new – and perhaps unusual – menu items are Thai pork blood soup, which is very popular in Bangkok, as well as Pakistani brain masala, a dish of lamb or cow brains fried with spices with what Doss calls "a really interesting texture.
"If someone had told me three years ago that I would be able to find these dishes in Mississauga, I would have laughed," he says. "People are becoming more adventurous in their food choices, but I'm surprised they are that adventurous."
There are seemingly endless options for Mississaugans to indulge on National Takeout Day, and Doss gives an example of a dish that has been adapted to reflect local eating habits. "Trinbagonian doubles are two pieces of fried bread filled with curried chickpeas," he says. "In Trinidad and Tobago, you eat this at a restaurant in the morning. But here, you can get it anytime – and take it with you."
This is yet another example of how different food serves to enrich a culinary culture, which Doss compares to "individual stitches creating intricate patterns in the tapestry of food in Mississauga."
____________________________________________________________________________________________
Advertising feature produced by Randall Anthony Communications. The Globe's editorial department was not involved.